mini-la-mode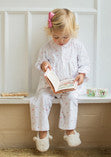 Mini –la-Mode was founded by Fee Drummond whose career in fashion, design and handmade collections spans over a decade. While pregnant with her son and setting up her nursery, she noticed that high quality handmade baby clothes and bedding with nostalgia of traditional English style were not easy to find.
Our baby clothes are made from the highest grade of hand-picked Peruvian pima cotton available, which is 100% certified for its premium quality. True Pima cotton is an unrivalled soft and silky fabric, and is therefore perfect for precious new born skin. It also allows skin to breathe naturally which is essential for regulating a baby's body temperature.
All of our items are lovingly hand made by traditional artisans, detailed with smocking and embroideries immaculately hand stitched.
Sorry, there are no products in this collection